Added to Cart View Cart or Continue Shopping.
Product Description

 

First, let us offer our condolences for your profound loss.  If you've found this page, it's likely due to tragedy.  As former officers ourselves, our hearts break with yours.  This beautiful piece was created for our friends at Humanizing the Badge, who have graciously decided to offer one to the family of every officer who falls in the line of duty in 2020.  We provide these to them at our cost.  You should have been provided a code to use at checkout which will allow you to order free of charge.  If you have any issues ordering, please reach out to us at info@copperstatecustom.com.

 

Specifications

This product is approximately 14" across the longest axis.  The shapes and sizes of badges vary greatly, which makes it difficult to determine the size of the finished product prior to design.  Since each badge cut to the same length will have a different width, it is impossible for us to tell you exactly the dimensions of your badge prior to your order.  Each badge is milled to an approximate thickness of 0.75", but the process of making your custom badge may result in a slightly thinner or thicker badge.  

 

Shipping

PLEASE NOTE: Custom work takes more time.  Please allow us FOUR to SIX WEEKS to ship your piece. 

Ordering a custom badge, plaque, patch, or emblem is an involved process.  There are several steps and points of contact along the way.  It is imperative that we have an accurate way to contact you during this process.

Our standard turn around time is between 4-6 weeks from the time you place your order until the time it leaves the woodshop, provided you respond within 24 hours to any request we send for information or approval of the design proof.  We ship all orders UPS Ground shipping, which can take up to five business days to reach you.  

We often outperform our standard turn around time, but use it as a guideline for what to expect.  As we mentioned above, there are many factors that affect the amount of time it takes to design and manufacture your custom woodwork.  We do not guarantee that your item will arrive on any specific date.   

Return/Refund Policy

We do not accept returns or issue refunds for custom products, except in instances where there is a defect in workmanship.  The determination on whether or not to issue a refund is ours and ours alone.  

Care and Maintenance

To care for your badge, wipe it clean with a clean cloth or rag.  Do not use cleaning chemicals or water.  For stubborn stains, you may use a damp cloth, but you must quickly dry any moisture.  These items are not meant for outdoor or extreme environment use.  
Customer Reviews
07/25/2021
Eric H.

United States
Everything I expected, and MORE!
I was VERY impressed with everything concerning this product, from the initial order to the follow up by Copper State! They were there every step of the way. Superb customer service! The final product was beautiful and everyone who has seen it commented on the quality of the product. THANK YOU!
07/22/2021
Susan R.

United States
Absolutely beautiful!
I was looking for something special as.a retirement gift for my husband, who just retired from the Colorado State Patrol after 27 years as a state trooper. I stumbled onto your site and after reading the reviews I took a chance. This replica of his badge is absolutely beautiful ~ so much more than I expected it to be. Every detail on his badge is there, including the "retired" engraving on the back with his name, badge number, and service dates, which were added as an inscription on the custom badge. When he opened the box, all he could say at first was, "Wow.....". It really is gorgeous. The whole experience was fast and easy from ordering, approving renderings, and receiving order (with the rush order selected). I definitely will recommend this company to others! Thank you so much for such a special gift for him!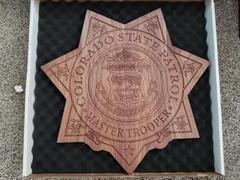 07/03/2021
Kevin F.

United States
Exceeded Expectations
Fantastic finished product. Purchased as a retirement gift for a 31 year friend/colleague. Couldn't have asked for a better product. Well worth the $$$. #2
06/28/2021
Jessica S.

United States
Awesome work!
I am very pleased with everything about this company! The customer service is fantastic, the l badges I ordered for my husband were spot on and the detail is phenomenal! I have nothing but great things to say about this fabulous company. I would definitely recommend it to others!
06/23/2021
Kendall D.

United States